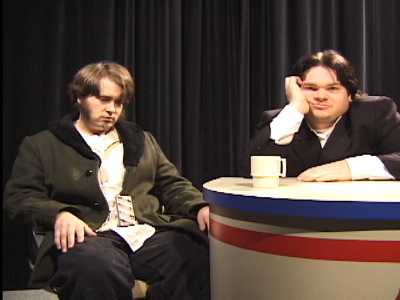 Dancyger in the Dark (2000) is a 16mm movie made for the Advanced Film Production I course at Minnesota State University Moorhead.
This project was the first of the three Seven Deadly Sins anthology movies supervised by Greg Carlson and Matt Dreiling.
Main Details
Edit
Plot Summary
Edit
See individual pages for plot summaries. The movie's segments in order of appearance are:
Production Information
Edit
The title for Dancyger in the Dark is a combination of Lars von Trier's Dancer in the Dark and the name of the film textbook author Ken Dancyger. Dancyger in the Dark was dedicated to Ted Larson with a credit that read "The film production class wishes to remember Ted Larson and express our deepest gratitude for all the things he did for us."
Written and Directed by
External Links
Edit