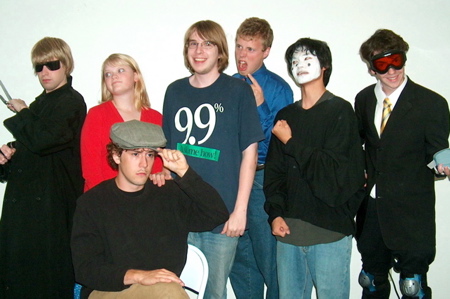 AJ Goes to France (2006) is a 60-minute movie created by Toby Jones, Danny Davy, and AJ Thompson. It played at the Palais Broadway during the 2006 Fargo Film Festival and won Best Feature at the Michigan State University Student Film Festival.
Main Details
Edit
Plot Summary
Edit
All his life AJ Thompson has held a singular dream, to live in the great nation of France. After an especially miserable day, his friends set out to make this dream a reality (sort of). Along the way he encounters a series of bizarre and wonderful characters, falls in love, and is faced with the challenge of stopping an evil corporation.
Production Information
Edit
Danny Davy and Toby Jones came up with the idea for AJ Goes to France in their sophomore year of high school (specifically early 2003). The first writing session was in November 2004 and the first day of filming was March 5th, 2005. The "official" last day of shooting was August 13th, but there were a few small bits and pieces left. AJ Goes to France premiered as a midnight movie at the Fargo Theatre on January 6th, 2006.
Tom Seim directed the AJ Goes to France Documentary, which is included on the DVD of the movie.
Other Information
Edit
External Links
Edit