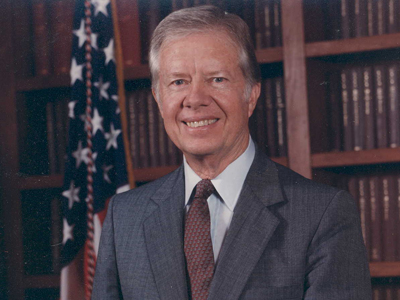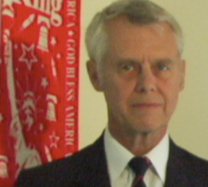 James Earl "Jimmy" Carter, Jr. (born October 1, 1924) was the 39th President of the United States from 1977 to 1981, and the Nobel Peace laureate of 2002. Prior to becoming president, Carter served two terms in the Georgia Senate, and was the 76th Governor of Georgia from 1971 to 1975.
A fictionalized version of Carter was portrayed by David Thoreson in the film Mercedes Ray, where he joins his fellow presidents in throwing a wild party.
About Carter
Edit
Carter's presidency saw the creation of two cabinet-level departments: the Department of Energy and the Department of Education. He bolstered the Social Security system by introducing a staggered increase in the payroll tax. In foreign affairs, Carter pursued the Camp David Accords, the Panama Canal Treaties, and the second round of the Strategic Arms Limitation Talks. The final year of his term was dominated by Iran hostage crisis, during which the United States struggled to rescue diplomats and American citizens held hostage in Tehran.
After leaving office, Carter founded the Carter Center to promote global health, democracy and human rights. He has traveled extensively to monitor international elections, conduct peace negotiations and establish relief efforts. As of 2007, he is the earliest living president and the second-oldest living president.
Appearances
Edit
Other U.S. Presidents Portrayed in Local Films
Edit
External Links
Edit
Community content is available under
CC-BY-SA
unless otherwise noted.